More than 200 people braved strong winds and rain, on Wednesday, September 28th, to attend the joint Labour Representation Committee and Socialist Campaign Group Rally at the Labour Party Conference. The meeting took place on the same day as LP veteran and refugee from Nazi Germany, 82 year old Walter Wolfgang, had been expelled from the Conference under the Prevention of Terrorism Act, for the heinous crime of shouting "nonsense" when Foreign Secretary Jack Straw was talking about the war in Iraq. "New Labour has descended from Clause 4 to Group 4," commented Alan Simpson MP. Wolfgang received a warm welcome to the rally and was the first of a long list of speakers, trade union leaders, left-wing MPs and activists, all united by their opposition to the right wing policies of the New Labour government. Amongst them were Jeremy Corbyn MP, Bob Crow (RMT), Gerry Doherty (TSSA), Billy Hayes (CWU), Alice Mahon, John McDonnell MP, Michael Meacher MP, Linda Riordan MP, Mark Serwotka (PCS) and Alan Simpson MP.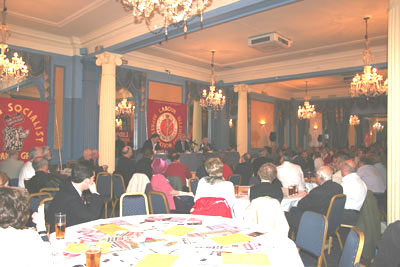 Hands Off Venezuela was present at the rally with a stall and Jorge Martin, the campaign's international secretary, spoke from the platform. John McDonnell MP, chair of the LRC and president of the Hands Off Venezuela campaign who was chairing the meeting, introduced him by reminding the audience about the internationalist character of the labour movement.
Jorge started by saying that events in Venezuela should be a source of excitement and inspiration for socialists around the world. Even in the last few days, he pointed out, a number of factories and landed states had been expropriated. He also described Chavez's speech at the United Nations, where he said the UN did not work, and could not be reformed. Amongst other things, Jorge Martin explained the enormous achievements of Venezuela's Bolivarian government, particularly in the fields of education, health care and land reform. He then stressed that one of the most important things happening in Venezuela right now is the debate about socialism, which was launched by Chavez himself earlier this year. The debate is now permeating all sections of Venezuelan society and particularly the trade union movement, where workers are experimenting with different forms of workers' participation in the running of industry. The fact that an elected head of state, who is at the same time the leader of a mass revolutionary movement, has raised clearly that the choice we are facing is one of socialism or barbarism, was of enormous significance for socialists all over the world.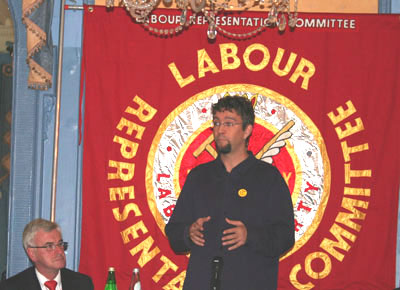 Jorge Martin speaking